Fish Fertilizer Research
University Research
FUSARIUM SUPPRESSION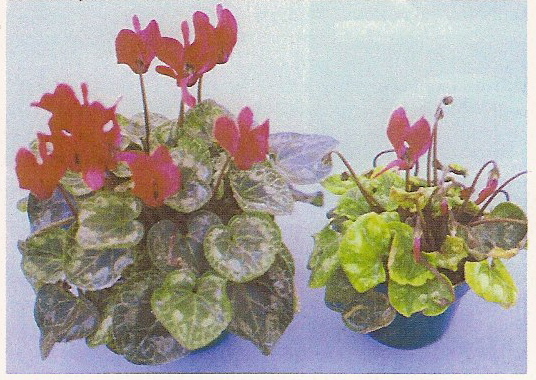 Research conducted by Dr. John Sutton at the University of Guelph in Ontario, Canada, linked Drammatic "K" Liquid Fish Fertilizer to the suppression of
Fusarium
. The study conducted weekly foliar applications of Drammatic "K" in addition to a regular fertilzation program in cyclamen plants. Cyclamen were then inoculated with
Fusarium
spores at concentrations of 20,000 spores and 200,000 spores. According to the report, at both concentrations plants treated with Drammatic "K" appeared to be "more vigorous" and the treatment "greatly reduced the rate at which the disease developed." The researchers concluded that use of Drammatic Fish Fertilizers contribute to disease control. These findings confirm many reports from growers using Drammatic as a means of managing diseases.
Additional research on root development in cucumbers indicated the promotion of fine root hair growth, and a greater root mass when cucumbers were treated with Drammatic Liquid Fish Fertilizer. Such results can be valuable to growers in times of drought, when a larger root mass can utilize more nutrients and water from the soil.
For more information on the research conducted at the University of Guelph, you may
email
us with questions, or find the report in the August 2005 issue of
Greenhouse Canada
.
FOLIAR FEEDING BENEFITS
Adding foliar feeding to your nutrient program can produce higher yields and make your nutrient program more efficient. Research conducted in the 1950s at Michigan State University by the head of the Department of Horticulture, Dr. H.B. Tukey, provides insight into the value of adding foliar applications to your crop nutrition program.
The use of radioactive phosphorous and potassium to spray plants allowed researchers to measure the absorption, movement and utilization of foliar nutrients with plants. The following conclusions were made:
1. Plant nutrients moved at the rate of one foot per hour throughout all parts of the plant.

2. Foliar feeding provided approximately 95% efficiency compared to only 10% from soil applications.

3. Speed of nutrient absorption through foliar applications was immediate.
This research highlights the importance of foliar feeding crops as a means of correcting nutrient deficiencies that occur during the growing season. Additionally, because of the efficiency of nutrient use in foliar applications, growers can be confident they are maximizing their fertilization costs when incorporating Drammatic Liquid Fish Fertilzers into crop production.
For more information on the research conducted at MSU, please click on the link below to view the article highlighting the research in the March 2004 issue of
American Vegetable Grower
.